Rural Nevada roads have the sixth highest fatality rate in the nation, according to a June 2017 article in the Las Vegas Review-Journal. A study prepared by a nonprofit traffic research group called TRIP found that the state average is 2.77 fatalities for each 100 million miles traveled on non-interstate, rural roads. In Nevada, about 80 people died in accidents on rural roads in 2015.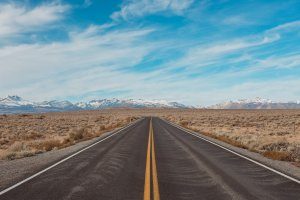 According to the report, the Nevada Transportation Department spokesman said that Nevada has some of the country's most well-maintained roads. The spokesman cited the American Association of State Highway Transportation study. However, he did claim the statistics can appear skewed when the majority of the state's roads are outside the urban areas.
The states with the highest fatality rates on non-interstate, rural roads include Kentucky, California, Montana, and Mississippi. The number one state is South Carolina, with a rate of 3.82 fatalities for each 100 million miles traveled.
The study did not specify the type of car accidents that happen most often on rural roads. One type of accident, truck accidents, are a different and often much more dangerous type of rural Nevada accident. A truck accident victim can obtain damages for the injuries sustained in a truck accident. If the truck accident victim dies during and/or after the crash, his or her family members can file a wrongful death claim.
A Trucking Accident Involves a Commercial Truck and a Passenger Vehicle or Pedestrian in Rural Nevada
A truck accident in rural Nevada typically involves a passenger vehicle or a pedestrian. A truck accident always involves one commercial vehicle. A commercial vehicle includes:
Box trucks
Walk-in vans

Sprinter vans
City delivery trucks
Heavy-duty pickup trucks
Garbage trucks
Bucket trucks
Logging trucks
Refuse trucks
Cement trucks
18 wheelers
School buses
City transit buses
Sleeper cabs
Common Causes of Truck Accidents in Rural Nevada
A truck accident may occur for many reasons.
These reasons include:
Driver fatigue
Wide turns
Tailgating
Brake problems
Rollovers
Jack-knifing
Driving distraction
Failing to obey traffic laws
Overloaded cargo
Mechanical failure
Negligence in Rural Nevada Truck Accidents
A truck accident may involve negligence. Negligence is the failure to do what a reasonable person would do in the same and/or similar situation. In this case, if a truck driver fails to do the same thing that another truck driver would do in the same and/or similar situation, then he or she can be deemed negligent and held responsible for any injuries caused.
To prove that negligence happened, a truck accident victim must prove that the truck driver failed to act like a reasonable truck driver would in the same and/or similar circumstances. Nevada law requires four elements, or steps, to prove that negligence occurred in the truck accident. These steps include proving that:
The truck driver had a legal duty to the accident victim to protect them while operating a commercial truck. Every truck driver has a legal duty to protect people from harm while operating a truck. The legal duty is a responsibility to travel from one place to another without causing an accident.
The truck driver breached the legal duty to protect the accident victim from harm. To breach the legal duty means to cause an accident.
The truck driver's negligence caused the accident victim's injuries. This is the element that connects the accident with the victim's injuries. The truck driver must cause the injuries to obtain damages.
The accident victim is owed damages because of the truck driver's negligence. Damages include medical bills, pain, and suffering, and lost wages.
Contact Attorney Brock Ohlson Regarding Your Rural Nevada Trucking Accident
It is never a good idea to rush to settle a truck accident claim. It also never a good idea to file a lawsuit prior to completing an investigation. A truck driver is the most obvious at-fault party in a trucking accident because he or she was the one operating the truck at the time of the accident. However, other parties can be at fault for the truck accident, as well, even though they were behind the wheel. For instance, the truck company could have forced the driver to work more consecutive hours than legally allowed by federal law. A cargo company may have loaded too much cargo onto the truck. This may cause the truck to overturn.
After our initial consultation, we will complete an investigation regarding your accident to determine the at-fault parties. We will work to settle or obtain a trial verdict on your behalf to get you the damages you need.
Contact us regarding your trucking accident immediately.