Any time an accident does not result in a serious injury, the worst-case scenario has been avoided, but you could still be in for a long ordeal when it comes to getting your insurance company to reimburse you for damaged or destroyed property. In 1987, when William Powers' boat, the Mikimbi, sank in the Gulf of Mexico and he was rescued from his life raft, he was no doubt relieved to have escaped injury, but his problems were just beginning. He ended up in a long legal battle with his insurance company, USAA, and was eventually awarded a settlement, but not until many years later.
Details of Powers v. USAA
In 1987, William Powers, a retired Air Force Colonel, was traveling across the Gulf of Mexico from Texas to Florida on his boat when the vessel began to take on water. Powers cut an exhaust line on the boat in an attempt to stop it from taking on water, but it became obvious that the boat was going to sink. Powers radioed for help before seeking safety on a life raft and awaiting rescue. On his initial call for help, he did not mention that he had cut the exhaust line, but rather that it had "deteriorated."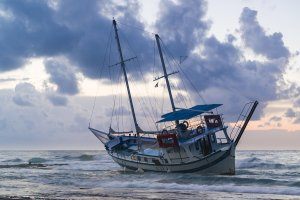 When Powers filed a claim with USAA, which had been his insurer for 35 years, the insurance company denied his claim because of inconsistencies in his account of events. USAA even filed a criminal lawsuit against Powers, alleging that he had committed insurance fraud by destroying his own boat and then trying to get the insurance company to compensate him for it. Powers was acquitted of the criminal charges, but the litigation was far from over. Powers continued to pursue legal action against USAA, appealing the case all the way to the Nevada Supreme Court.
In 1994, seven years after the Mikimbi sank, a judge awarded Powers $400,000 in compensatory damages. The court also ordered USAA to pay 5 million dollars in punitive damages because the insurance company had acted in bad faith. The appeal process continued until 1998, until the Nevada Supreme Court upheld the ruling in favor of Powers and the amount of damages ordered by the trial court. By that time, 11 years after sinking the Mikimbi, Powers was no longer healthy enough to spend most of his time living on a boat, as he had been doing with the Mikimbi before it sank.
Legal Principles Involved in Powers v. USAA
The issue at hand in Powers v. USAA was that insurance companies have the obligation to compensate property owners when their insured's property is destroyed in an accident. Powers did not intentionally destroy his boat; his unsuccessful attempt to save the boat did not constitute intentional destruction of property, and therefore USAA acted in bad faith by denying his claim.
Contact Brock Ohlson About Insurance Disputes
If your insurance company refuses to compensate you for the damage of your insured property, you may have grounds for a lawsuit. Contact Brock Ohlson, Nevada's Personal Injury Lawyer, for a free consultation.