Approximately seven people were injured in a car accident near Lake Mead, according to a KTNV July 2017 report. The accident happened in the later part of July in 2017 on a Saturday. About seven people were involved in a two-vehicle car accident on Lakeshore Road within the Lake Mead National Recreational Area. After the accident, the road was closed in both directions for some time.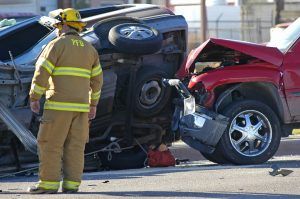 The car accident happened near mile marker 4 about 5:30 p.m. The Boulder City Fire Department and Paramedics, National Park Service, Nevada Department of Wildlife, and Nevada Highway Patrol responded to the scene. Mercy Air and Community Ambulance also responded to the scene.
Of the seven injured, two people were transported to the hospital in critical condition. The other five people had no life-threatening injuries. The road was eventually reopened. The accident, at the time of the report, was under investigation. There were no other details available.
No information was included on whether the injured people planned to file a personal injury claim. No information was given regarding whether the critical condition of the two people included catastrophic injuries.
In Rural Nevada, a Catastrophic Injury is the Most Devastating Type of Injury or Illness
A catastrophic injury is a physical illness or injury regarded as extreme or severe. The injury has a considerable impact on the victim's life and requires long-term medical treatment. The catastrophic injury may be permanent. If it is not permanent, it may take months or years to heal. The full extent of the catastrophic injury may not be known immediately, but take some time to determine.
A catastrophic injury may take a physical, mental and emotional toll on the victim and his or her family members.
Type of Catastrophic Injuries in Rural Nevada
The term "catastrophic injury" is a misnomer. It implies there is one injury that is considered catastrophic. Many injuries are catastrophic.
These injuries include, but are not limited to:
Head and skull damage
Brain damage
Internal injuries
Severe burns
Crushed bones
PTSD
Limb loss
Spinal cord injuries
Paralysis
These catastrophic injuries may affect other areas of the individual's body such as their:
Central nervous system
Urinary tract
Gastrointestinal tract
Circulatory function
Reproductive system
Excretory system
Common Causes of Catastrophic Injuries in Rural Nevada
Catastrophic injuries are often the result of a personal injury accident. The type of personal injury accidents include, but are not limited to:
Slip and falls
Auto accidents
Pedestrian accidents
Sporting accidents
Swimming pool accidents
Workplace accidents
Unknowingly using a defective or dangerous product
The personal injury accident that causes a catastrophic injury to an individual can be caused by one or more of the following:
Negligence: Negligence is the failure of the at-fault party to act as a reasonable person would in the same and/or similar circumstances. This includes breaking a traffic law and causing an accident or a store not mopping a floor after a spill, causing someone to slip and fall.
Intentional act: An intentional act is a type of act a person does with the intent to harm another individual. The intentional act ranges from battery to assault or false imprisonment.
Defective product: Every company is required to ensure that its products are safe for consumer use. If they are not safe and injure an individual, they are defective and/or dangerous. A company is considered strictly liable for the catastrophic injury caused.
Contact Attorney Brock Ohlson About Your Catastrophic Injury in Rural Nevada
It may seem obvious that your catastrophic injury happened because of the actions of another party. However, Nevada personal injury law requires that we connect your injury to the at-fault party's negligence, intentional act, or defective product.
You may not live in the bright lights and big city of Las Vegas or Reno, but you deserve a tough attorney ready to get you the money you need. Together, we can prove that the at-party owes you damages such as:
Medical costs
Rehabilitation costs
Lost wages
Physical therapy
Pain and suffering
Decreased earning capacity
Hiring an attorney does not always mean that you are in for a long court battle. The other party may want to settle at any point before or during the trial process. The goal right now is for you to hire an attorney you know has your best interests in mind.
Contact us about your catastrophic injury and the accident that caused it. We offer a free consultation.